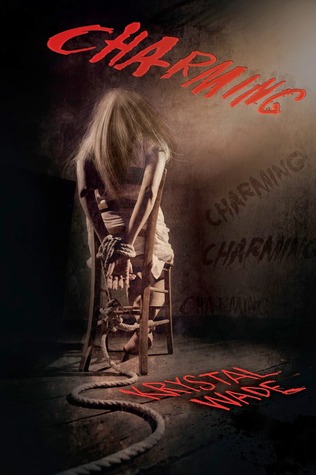 FINALLY finally I'm able to write a post again! Thank god! First I was sick and then school killed all my time :( But now my review of Charming, an amazing horror/thriller book is here! I've been wanting to review this book for so long now:
Sixteen-year-old Haley Tremaine had it all: top-notch school, fantastic family, and a bright future, but all of that changed when an accident tore her family apart. Now, an alcoholic father, a bitter younger sister, and a cold headstone bearing her mother's name are all she has left.

Chris Charming has it all: a powerful CEO for a father, a prestigious school, and a fortune at his fingertips, but none of that matters when he lands a reputation as a troublemaker. Struggling to follow in his father's footsteps, he reaches out to the one person he believes truly sees him, the one person he wants: Haley.

Little do they know someone's determined to bring the two together, even if it means murder. (from Goodreads)
Charming
is a Cinderella retelling with horror elements and holy hell, did Krystal Wade do a fantastic job writing it!
There are so many emotions in this book: Basically the whole time I felt genuinely sorry for Haley - like she goes through so much shit in her life: her father treats her and her mom horribly, then her mom dies and the situation with Haley's dad gets worse and her sister doesn't even see it! And still these two people are the only ones Haley has left in her life so she does everything for them; she cleans after them, she sacrifices all of her free time and her own goals in life and in the end all she gets is maybe a day without getting hurt by her father and dealing with her sister's mood swings. And what happens after that, I'm not going to spoil anything, but it is just unfair.
And then there's Chris, a (very, very ;-)) good-looking guy who shows interest in Haley. But she is really unsure what to make out of that because on one hand she wants to like and trust him but on the other hand she fears he might just mess with her. I think at one point she even says "I have enough assholes in my life, I don't need another one" and, honestly, that really describes her situation pretty well and you feel the exact same way; I mean, her life is hard enough as it is and Chris might either be her lifebelt or will crush her completely. And also getting to know him means risking her secret that she gets hit by her father. So it's a really complex situation but very well handled in the story and fits perfectly into the rest.
In the end, I loved this book. It's great written, there's a lot of character development, the plot is so interesting and fantastic. 5 out of 5 stars. Charming is definitely worth a read and the only thing that "bothered" me is that it was so short! I WANT MORE!!!
Thank you for reading! If you put this on your TBR list or already have read or know a book similar to this one, definitely leave a comment and tell me about it! (I always respond!)
Follow my blog with Bloglovin! New posts every Tuesday, Wednesday and weekend!
Be my friend on Goodreads!
Follow me on Bookstagram! New uploads every day!